CLOCKWORK RADIO

Music crosses national, religious and cultural boundaries and this is
as evident as ever in the sound, ideas and diversity of Clockwork Radio.
The band currently based in Manchester, consists of two Welshmen,
two Mancunians and an Egyptian.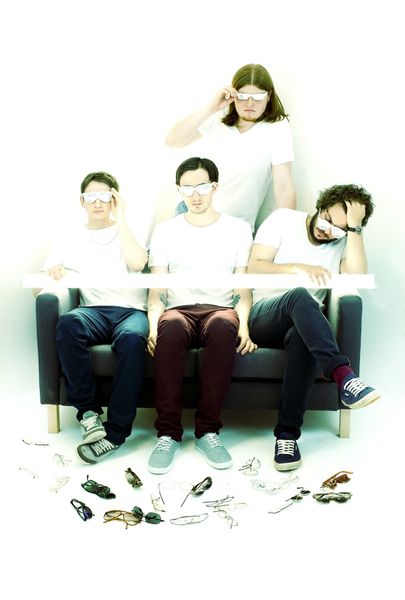 This diversity of culture, sound and nationality has not always worked
in the band's favour; battling it out over visa issues in order to get
bassist Nadim Mirshak permission to tour Europe, postponing African
tours due to the 2010 revolution in Egypt, and critics being unable to
pin-point a place for them in the current music scene.

Challenges that have made it even more of a priority for the band
to get out on the road to play as many shows, to as many people,
in as many countries as possible.

Since the release of their first EP 'State of Mind' in 2010, Clockwork Radio
have packed a lot into the last 24 months. That includes releasing 4 EPs,
performing on the same bill as The Prodigy, The Hives, Bombay Bicycle Club
and Skunk Anansie, along with multiple trips across Europe playing shows
on rooftops, streets, in cafes, clubs, boats, quarries, beaches and everything else
in-between, sometimes playing three or four sets a day.

With comparisons to classic and contemporary bands/artists such as The Police,
Pink Floyd, Bob Marley, MGMT and Florence + The Machine, Clockwork Radio
demonstrate the diversity and scope of their writing across their previous releases,
exploring genres as varied as Flamenco, Afro-beat, Electronica, Rock, Folk,
Disco and Funk.

Having made a conscious decision to work with underground artists across Europe
including Agnes Cecile (Italy) and Juan Carlos Riviera (Spain) to promote the artworks
that accompany and bring to life the music, Clockwork Radio were also the first
independent band to create a 360-degree interactive video for the single "Please You"
of the second EP "The Soul Harmonic" (released in November 2010).
Last year's "Sketch" EP received support from industry tastemakers such as Steve Lamacq,
Jen Long, Lauren Laverne, Tom Robinson & John Kennedy. The band have been getting
airplay, reviews and support across the world.



Clockwork Radio have just released their fourth EP "Ubuntu" with the lead single
"Feel It Up" already gaining national airplay and being featured as BBC6Music's MP3
of the day within hours of its release.

Clockwork Radio will be continuing the tour schedule across UK and Europe into next year.

"The Welsh/Egyptian/rest-of-the-world five-piece line-up of Clockwork Radio have easily
got a unique sound. Their latest EP release certainly throws together lots different vibes;
but vibes that mesh into something exciting and dynamic" Soundsofnowmusic.com