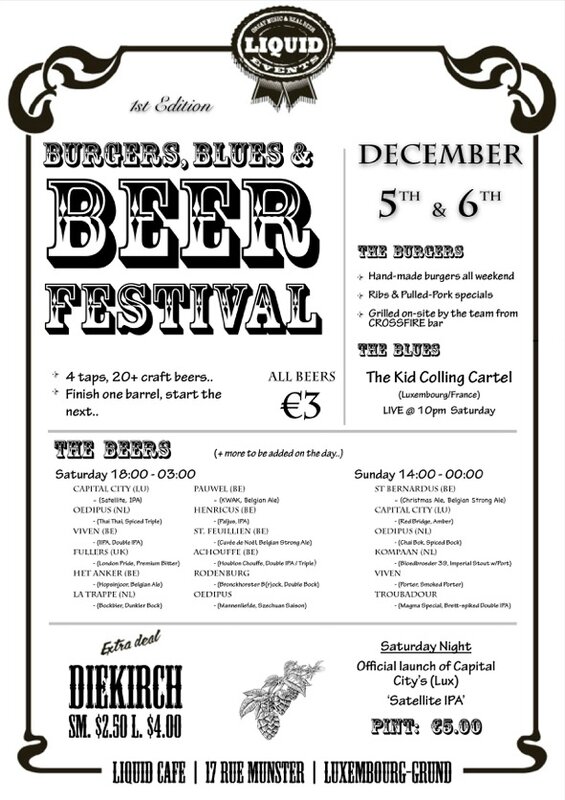 This weekend we're combining three of our favourite things as Liquid presents Luxembourg's first 'Burgers, Blues & Beer Festival'. We've got the guys from Crossfire Bar grilling up a special menu on the terrace, Stephane Colling back in the house performing with his Kid Colling Cartel crew, and over 20 different barrels of local and international craft beer. If you love beer, fancy a burger, and know your blues, this is where you'll want to be.. :)
The Burgers
Hand-made burgers will be grilled on-site all weekend by the team from Crossfire Bar, our favourite Scandinavian bar in the city. Lars will be there to grill a few of his classics, a limited edition Liquid burger (a spicy affair with home-made hot sauce) plus some ribs, wings and pulled pork specials.
The Blues
Stephane Colling has carved out a niche as one of Luxembourg's most exciting blues performers. Fresh from an extended stay in Paris, playing gigs and festivals all over Europe, and performing with the great Ilene Barnes, Stephane is together again with his original Kid Colling Cartel for a one-off concert at Liquid. 10pm Saturday night, you don't want to miss this one.
The Beers
We love beer, and we've collected some good ones for this weekend. We'll have 4 taps on the go at all times, and when one barrel finishes we'll hook up a different one. There's no order to this; if it's in the list, and you ask nicely, we'll connect it for you. And on Saturday we're hosting the launch of Capital City's new Satellite IPA, a full-bodied beer made with Amarillo hops, brewed right here in Luxembourg.
And they're all just €3 each :))